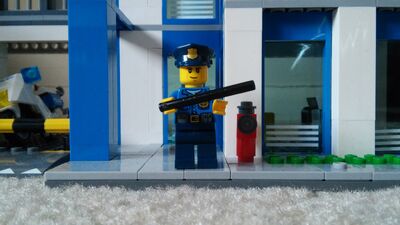 Dear Heavenly Father,
   I thank you for giving me and my friends the life and strength. I want to come to you and thank you for giving me the time to creat this wiki. Please protect this wiki from vandilism and if it is vandilised, I pray that the correct action may be given to punish the spammer. I thank you for this and all other blessings. In Christ Jesus' name I pray, Amen!
-LegoCityFan8 , Founder and C.E.O of this wiki-
Rules
As per wikia guidlines, any user who comes onto this wiki must be 13 or over. Any user found under the age limit will be banned.
Do not spam the wiki. Anything that has nothing to do with this series will be banned. 
Keep religious and political arguments off of this wiki. 
No dissing anyone, including yourself. Everyone has bad days, but we don't want to hear them on this wiki. 
Do not get on another users nerves. If they ask you to leave them alone, just do it. 
Don't whine when your edits are rolled back or further tweaked. Edits are undone on every wiki.  
Please do not backseat moderate. If you see a user breaking a rule, you don't tell them about it. You go to an admin or a chat moderator and they will take care of it.  
This may be an obvious rule, but please be respectful to everyone, especially to the admins who have the authority to ban anyone who steps out of line. 
Ad blocker interference detected!
Wikia is a free-to-use site that makes money from advertising. We have a modified experience for viewers using ad blockers

Wikia is not accessible if you've made further modifications. Remove the custom ad blocker rule(s) and the page will load as expected.